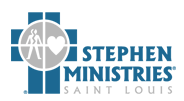 Services for persons seeking personal growth or a deeper and more loving experience with God.
Stephen Ministry is an independent, not-for-profit Christian educational organization founded in 1975 and based in St. Louis, Missouri. It is a lay caregiving ministry that supplements pastoral care and teaches laypersons to provide one-on-one care for individuals.
Samaritan Counseling Center has a Stephen Ministry Division with trained volunteers that we partner with individuals in need. Specifically, Stephen Ministers meet with those who might be facing loneliness due to a loss of a loved one, illness or other difficulties and/or with people who simply need someone to talk to or meet with.